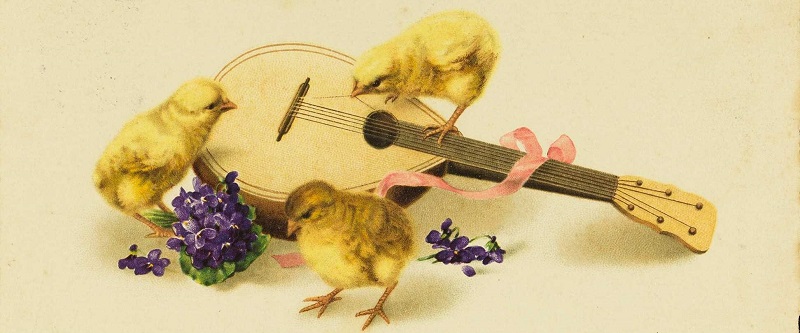 Welcome to…
…the homepage of the Archive Historical Picture Postcards – Osnabrück University. In our database you will find digital copies of more than 20,000 historical picture postcards from the time before 1945. Our collection focuses on: Music, Gender as well as political propaganda. However, you will also find cards on many other topics. In order to use the database effectively, please note the following:
We strive to catalog and index our maps as deeply as possible. Since this process is very time-consuming, not all postcards have been completely processed yet. In the collection description (only in German) you can inform yourself about the status of the work. There you can also get a detailed overview of our holdings.
Our collection was and is growing mainly through donations from many people who are looking for a permanent repository for their collection and want to make it available for research. Since we only have a small budget, we cannot digitize new postcards as quickly as we would like. Upon request, our holdings are available for viewing in the archives by appointment.
Not all postcards are displayed in the public area. Copyrighted material is digitized, but can only be viewed by researchers on site upon request. This also applies to postcards that we have blocked due to extreme content. Registered, logged-in users can view the metadata of these postcards, but not the images themselves.
The database has been designed to be as intuitive to use as possible. Nevertheless, it is worth taking a look at our help page for the most successful research. The database is a powerful tool with numerous additional functions.
If you have any questions, please feel free to send us an email or call during office hours.
We would like to express our sincere thanks to all donors of collections and single postcards. The development of the database and the digitization of larger holdings was made possible by the generous support of various institutions, first and foremost the Sievert-Stiftung für Wissenschaft und Kultur (Sievert Foundation for Science and Culture) and the Ministeriums für Wissenschaft und Kultur des Landes Niedersachsen (Ministry of Science and Culture of the State of Lower Saxony). Additional funding was provided by the Stiftung Niedersachsen (Lower Saxony Foundation), the Universitätsstiftung Osnabrück (Osnabrück University Foundation), and the Deutsche Digitale Bibliothek (German Digital Library) as part of the NEUSTART KULTUR program funded by the  Beauftragten der Bundesregierung für Kultur und Medien (Federal Government Commissioner for Culture and the Media). Many thanks!
Via this link you can access the new database directly.
Please note:
Picture postcards are important cultural and historical sources. They can tell us a great deal about the ideas and ways of thinking of the time in which they were created. However, this also means that they sometimes convey views which seem to us today to be entirely inappropriate, both politically and socially. We would therefore like to emphasise that we publish pictures in this collection exclusively as a source for academic research and educational use in schools and universities in accordance with § 86 StGB . The postcards depicted represent a spectrum of political and social views which in no way correspond to those of the members of the picture postcard archive and of the collectors. The users of our database undertake to use the cards only for historical and academic purposes and in no case to use them in a propagandistic manner as defined in § 86a StGB. Publications require permission.
We have made every effort to determine whether the postcards shown are protected by copyright. If you are the owner of rights to a card or know that a particular card is still legally protected, please contact us. We will then immediately remove the card in question from the publicly accessible database.
E-Mail: bildpost@uos.de